Friday, March 14, 2008
Friday's Feast #183
Appetizer
On a scale of 1-10 (with 10 as highest), how much do you like your own handwriting?
I'd say 8... I love my handwriting, but sometimes I wish it could be prettier on occasions (by that I mean I would love to be able to create some 'typography' to use when writing cards, scrapbooks or journaling that is nicer than my usual writing)
Soup
Do you prefer baths or showers?
Showers, actually. I feel cleaner and it saves water and time too. Anyways we don't have a bathtub at home, but I never miss a chance for a nice warm bubble bath, usually when we're staying at a hotel ;)
Salad
What was the last bad movie you watched?
Honestly, I don't watch bad movies :P
I usually check reviews before I go to the cinema, and at home I just change the channel. Once though, I walked out of a cinema movie because it was a split decision to watch and turned out to be bad. Can't remember the title, however.
Main Course
Name something you are addicted to and describe how it affects your life.
Right now, I seriously think I'm addicted to Josh. LOL. How it affects my life? Well, in a positive way it motivates me to do more for Sunday School because of the thought 'he might be there', and it also gives me a lot to write in the blog and in my journal. Hahah. On the negative side, it is really frustrating in many ways.
Dessert
Which instrument is your favorite to listen to?
I'd say the guitar... or perhaps the harp but I don't get to listen to that often.
Labels: Friday's Feast
Impossible!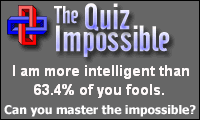 Impossible-Quiz.com -
Hardest Quiz Ever
Labels: Online Quiz
Monday, March 10, 2008
In response to...
Joy Renee
, the truth is I envisioned doing the same thing just like you described. I'm pretty sure that would leave him dumbfounded. LOL. If only I don't freeze in a stupid grin whenever I meet him...
Anni
, your comment was the funniest! Hahahah... I guess you're right!
Arlene, he probably wouldn't be seeing my blog soon cause I hid it pretty well from my real life. LOL. And a good thing too, in a way, cause if he reads this and reacts in some negative way, I might not be able to face him ever again!
Natalie
, Josh isn't his real name, but anyway :)
Celtic Librarian
, thanks for the good luck wishes!
Sarah
, oh yeah, blogging is GREAT!
Holly
, thank you so much :)
Maggie
, thank you too!
Ellen B
, how I wish I have the courage to do THAT! But oh, just yesterday when I accidentally ran into him I just froze. With a stupid grin on my face. And then some lousy comment... :(
Laura
and
Claudia
, I'm pretty sure he's not worth ALL of my obsession. LOL.
Beeker, Oh, how I wish I could...
Zen Momma
, I think he's the one... but maybe I'm wrong :P
Chuck
, I'm still not getting over him...
Darla
, yeah, it did!
Robin
, thanks!
Maggie
, like I told you on your blog... I have never blatantly told him, but I'm so obvious he probably knows :P
Bad Puppy Dog
, I wish I could...
To all, thanks for your words of encouragement. A little Josh update is... I will be spending time with him for the easter celebration at our Sunday School cause they assigned us the same post. Wish me luck and pray that I won't act stupid, if you'd please... who knows what might happen then. It's two weeks from now. Oh. Oh. I'm nervous even now! LOL.
Labels: Just A Thought, Thursday Thirteen
Saturday, March 8, 2008
TMTH (Too Much To Handle!)
It's been an amazingly irritating morning! On a Saturday... good gracious! And yesterday was a national holiday. My goodness, I oughta be sleeping today, enjoying peace and quiet like never before, but NOOOO, early morning I had to finish some report, found out I had made a mistake, but more on that later, and then report it to my boss to get scolded for nothing which led me to crying out loud... followed my me having to go to work, called the person to whom I made the earlier mistake only to get scolded agaaaiiinnn, and he refused to pay so I will have to pay for it (that's 3/4 of my pay... AAARRRGGHH) AND as if that is not enough, comes this irritating lady who just has to bug me further on the report as well as ask me to copy songs to her iPod. Oh God, I cannot handle thissssss....
Anyways... Out of topic... last night I was so angry that Danny Noriega was eliminated from American Idol! I mean, I don't like him that much, in fact I would spend my time watching him and giving negative comments but he's actually pretty fun to have around and I definitely would choose him over Chikezie.
And all that, as Danny would put it, is just TMTH.
Thank you so much for all the nice people who visited my TT though, and your encouragement on Josh... hahahah... I must rush and do some work again now but I'll get back to re-reading your comments. I love the facet that there are people who care out there... :)
Labels: A Day in My Life
Thursday, March 6, 2008
Thursday Thirteen - 16th Edition
Since I'm seriously obsessed with this guy, might as well write it down... some say it might help... who knows I might get over him by doing this... LOL :D
13 things I think of when I think of Josh
1. John the Baptist
When I first met him, he was playing John the Baptist at our church's cantata. I don't think anyone else remembers that... hmmm...
2. Sunday School
Because it's the place I got to know him better, and the reason I have so many (well, not that many) memories of him.
3. M&M's
There was this one moment when we were 'close' and he gave me a bag of M&M's, because it's sweet, like you... he said. Lame, I know... but still sweet.
4. Green Suzuki Esteem
This was his car back then (read: when the above scene happened).
5. Sunset
The story goes, one day Josh and I were talking about an event we were to host together, and then I waited for my mom who was doing something at church, and he accompanied me, being sweet, we talked... all the way til it was dark. The sunset was awesome.
6. Banana
On a milestone day in my Josh story, we were close, tired, hungry... and he fed me bananas *err, it was rather romantic, actually. It's just not sounding right at the moment... hahah*
7. Do you love me? and Do you want to kiss me?
The two questions he threw at me that one night when everyone else were in their room sleeping (it was a Sunday School camp) and we were talking nonsense in the middle of the night... which shocked me and made me answer NO (well, in between sheepish laughs and looks that say yes), also known as the day I probably ruined my chances forever and ever... because although there was a sweet happening the next morning, his close-to-every-other-girl-too behavior made me end the day in crying home (okay, I was probably tired) and we sort of stopped speaking after that... for approx. 2 years!
8. The Christmas Song
Yes, there is a reason why I like this song so bad, and the reason in Josh. This song was playing on the Christmas day we sort of 'made up'. He was singing and then he wished me a Merry Christmas and smiled his old smile I knew so well.
9. Girls
Unfortunately, Josh is probably the luckiest playboy on earth. He could go with the title Casanova. Even my 6th grade student knows that he spreads his charm on a lot of girls. And yet, why does my heart refuse to agree that I'm just one of his 'victims'? I wish I knew... I wish I knew.
10. Polo Ralph Lauren
I think this is like his favorite brand. Seriously. This guy wears Polo shirts every time! And he has a Polo backpack and probably a whole lot of other Polo stuff too. For all I know his perfume might be Polo. LOL.
11. Shout to the Lord
as in the song by Hillsong, for it was the song we sang together last Sunday, along with an Indonesian song. It was a sweet experience all over again, practicing, singing... so much that I almost feel like it was a sin to be praising God while thinking about how happy I am to be singing together with him :(
12. Golden Honda Accord
his current car, which drove me home from the Sunday School teacher's retreat... where I spent about 1.5 hours together with him and yet nothing special happened except me ruining my chances even greater for all I know *sobs*.
13. The Company he works for...
I think writing the company's name would be a little too dangerous. Let's just say I can't walk pass the breakfast food aisle at a supermarket without thinking of him :P
AND if his company really sends him off to the Philippines... well, I've decided that will be my final goodbye to him. At least that's what I decide at the moment. LOL. Seriously I have to get over him.
Labels: Thursday Thirteen